Welcome to Climbing the Seven Summits!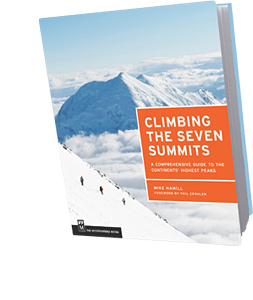 Climb and trek with the man who literally wrote the book on Climbing the Seven Summits! Mike Hamill is the Director and Lead Guide for CTSS as well as the author of the guidebook, Climbing the Seven Summits.
At CTSS we provide the highest quality expeditions and treks at a great value and take great pride in our clients' success. Our primary goal is always to get you to the top of a climb and back down safely while having a fun time doing it! Well over 100 climbers have stood on top of 8000m peaks under Mike Hamill's direct guidance.
Climb with Us!
I had the time of my life on Aconcagua. The trip was absolutely incredible, two weeks that I will treasure for the rest of my life. I have to say that Mike made the trip. He just inspires confidence and security. I knew that no matter what happened up there he could fix it for us. I would climb anything with him.  ‑Nicky M.
"Mike, there's an aura about you that when you're around everything will be ok. You chose the right profession, and I'm a better person because of it!!"  ‑Bart W.
We really enjoyed being with you for our 6th of the 7 summits! Thank you for all of your help, advice and wisdom to get all of us up and down Vinson safely.  ‑Kriss B.
Success Rates
Expeditions under Mike Hamill's guidance have maintained a 91% expedition success rate overall, with an 80% client success rate on all expeditions.
See Success Rates